SAC Renews School Spirit
St. X is back. After a depressing pandemic year in which school spirit dipped to an all time low, the Tigers have bounced back this year with vigor and zeal. 
Friday night football in Brother Thomas More Page Stadium has been electric despite coming off of a season in which players were deprived of having full capacity crowds. Many students have noticed a dramatic, positive change in school spirit, community and enthusiasm across every facet of St. X student life. 
Senior Matthew Corbett, President of the Student Activities Council (SAC), is an elected representative of the student body and is in charge of planning and promoting events. When asked about the changes that are causing this newfound excitement, he said, "Social media is a big factor, but incentives and promos have helped just as much." 
The SAC Instagram account, which was handed over to Public Relations Officer Teague Howell with just fifteen people following, has since shot up to a remarkable 500 followers. Howell believes this significant uptick in popularity is not a coincidence. Making home football games free for St. X students and offering incentives like free sunglasses and scarves for students who show up has been crucial for building excitement.
To best see the reborn Tiger energy in action, look for the student section at football games often referred to as "The Rage Cage".


"It's lively, a key part of St. X tradition and brotherhood, and an essential part of the St. X experience," Howell says. "The Rage Cage is seeing the St. X brotherhood in action."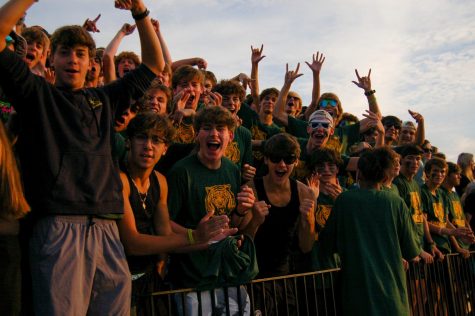 The renaissance of Saint Xavier High School has been an impressive feat for the Student Activities Council. Corbett and Howell are planning for more incentives in the future to keep the energy alive.
The Tigers' pride and passion will be on full display on Friday, Sept. 23 as St. X football takes on arch rival Trinity at 8:00 P.M. at Cardinal Stadium.