eSports Gets New Facility
The eSports Tigers are beginning their second season with a brand new computer lab, built especially for the eSports team, which brings a lot of opportunities and a bright future for this program. 
Led by Mr. Spears and Mr. Able, the Tigers began their spring season this week with a couple of practices before their first match.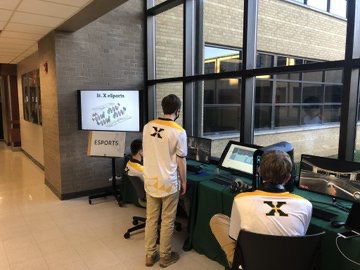 "We started preliminary practices this week, so we're up and running," Mr. Able said.
This season, the team will compete in games such as League of Legends, Rocket League, and will introduce Super Smash Brothers. There is a chance that for the upcoming fall season, Madden and FIFA will be introduced, too. 
There is one match a week for the Tigers. According to Mr. Spears, the format of the matches is a best-of-5 series for Rocket League, and for League of Legends, they play 2 games. 
The team has recently built a brand new computer lab, which was designed specifically for eSports and makes it a lot easier to hold practices and matches. 
"Once we had the fall season of eSports, the administration saw the student interest in it and the decision was made to make an investment," Mr. Able said. 
As a relatively new sport with many unknowns on the horizon, Mr. Spears seems very confident with the future of eSports for the Tigers. 
"I think there's a lot of interest in the program," Mr. Spears said. "I think that from here it should only get bigger and bigger."