Getting to Know President Colistra
This school year we have welcomed new ways of learning, new ways of living, and most importantly new faces in school leadership, one of those being Mr. Paul Colistra, our school president.
Colistra came to St. Xavier from West Catholic Preparatory in Philadelphia with an open mind and newfound love for St. X and its 156 years of history and tradition. From the moment he arrived at St. X, he felt the love for the green and gold.
"St. X really is an experience. It's a culture; it's a way of life," Colistra said. "It's a legacy; it's in your family. It's in your bloodline. Guys don't check in and clock in and clock out at St. X." 
Although St. X felt like home to him from day one, Colistra is mindful of the opportunities and responsibilities in front of him. Not only is he mindful, but he is also very thankful. 
"I've got a lot to learn. I've got a lot that I want to experience with the school, but I'm certainly prideful, respectful, reverent and humbled by the opportunity to lead this school," he said. "It's an honor, it really is."
Mr. Colistra is a family man and people person at heart. His schedule is jam packed throughout the week and also on the weekends. Although we know him as our president, he is also a devoted husband and is currently in "dad mode".
When he isn't watching his kids' soccer games and taking them to and from school, Colistra loves getting out on the links to play golf in his free time. As a former college football player at Ithaca College and a lacrosse player growing up, he loves exercising and finding ways to stay in shape. 
Apart from these outdoor activities, he really enjoys cooking and spending time with his family in the kitchen where he has been known to blast Frank Sinatra — bringing out his true Italian self. 
"Frankie Blue Eyes is my guy…" he said. "My wife is going to kill me if I don't turn down Frank Sinatra on Sundays."
Questions involving policy and personal background are very important, but sometimes the best way to get to know a person is to ask him an off the wall questions, such as, if you were sitting at a dinner table, who would be the five people, dead or alive, that you'd want to have dinner and conversation with?
For Colistra, he only needs four at his table. He'd dine with Frankie "Blue Eyes" Sinatra, Arnold Palmer, a healthy, young Muhammad Ali, and Jesus Christ. What's on the menu?
"Spaghetti and sausage," Colistra said. "Like my grandmother said: go simple. When you have a big dinner party and the stakes are high, go simple." 
Maybe even more so than his dream dinner party, Colistra is looking forward to getting to know the guys the most. He loves to form bonds with students and faculty and truly wants to get to know everybody on campus. Unfortunately, during these tumultuous times, it is harder than ever to get to know people.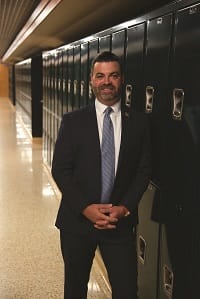 "Not being able to be one-on-one and simply chat with guys in the hallways, at liturgies, at assemblies, at games — that is the single biggest problem that I have with the pandemic," Colistra said. "We are finding other ways to do it, and this story is one of them."