Trampled by Turtles and Them Coulee Boys at Paristown Hall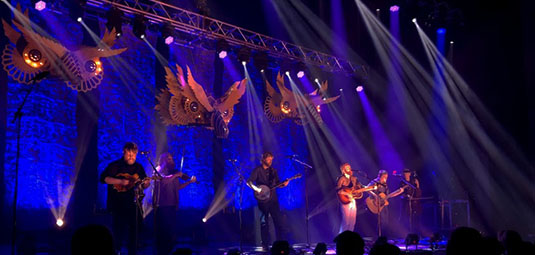 I consider myself to be a musical connoisseur. Over the past few years, I have been to shows across Louisville ranging from Classic Rock to Bluegrass to Bro-Country. I've seen some of the largest bands like Foo Fighters and Keith Urban at Rupp and the Yum Center all the way down to some of the smallest touring bands like Ten (a tribute to Pearl Jam) at Mercury Ballroom. Most recently though, on Saturday, February 1st, Americana group Trampled by Turtles performed at the newly opened Paristown Hall— my new favorite venue to watch live music. 
After a surprisingly stellar opening act by Them Coulee Boys, Trampled by Turtles came in and rocked Paristown Hall, creating an intimate and exciting show that didn't have a bad view in the entire place.
Trampled by Turtles, commonly referred to as "TBT" or just "Turtles," returned to Louisville for a fourth time, all four times working with 93.9 WFPK, Louisville's Free Public Radio. Before the show even started, representatives from WFPK introduced the Turtles, the group who still holds the record for attendance at Waterfront Wednesday, the free alternative concert series during the summer, from their appearance here back in 2012. Not only did they perform at WFW, but also twice at Forecastle, being a late addition to 2014 and one of the sub-headliners of the 2018 show, potentially setting up for a fifth return in 2021 or 2022.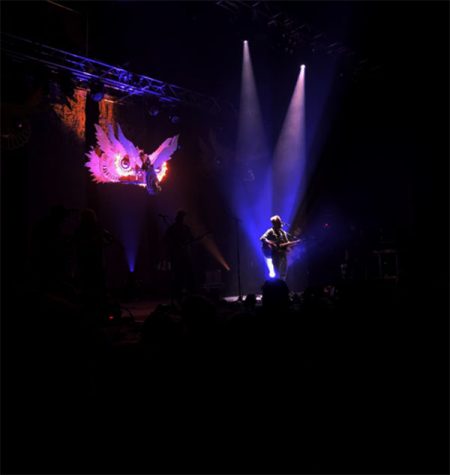 For TBT, their setlist included 20 songs with some of their mainstream hits like "Wait So Long," "The Middle," and "Victory" coming in a consecutive sequence to the pleasure of the crowd. Hanging directly above the stage were three massive owls with light bulbs lining their eyes, all digitally controlled to each specific song. Throughout the show, the backside of the stage continuously looked like a rock wall, immediately reminding me of the Red Rocks Amphitheater in Colorado. These different elements not only helped the music and band, but also elevated the experience to something you can't get at a smaller place like Mercury Ballroom or Headliners. 
The opening act, Them Coulee Boys, were also surprisingly noteworthy, as they had a few fans just to see them specifically. Although most of the crowd hadn't heard of this relatively new band before the night, by the end, everyone wanted to learn more about their music. The first 5 songs of their 10 song, 45 minute setlist, were some of the best music played all night. For Them Coulee Boys, the Louisville show was the last of their tour with TBT.
 Some of their most notable songs included "10 ft. Tall," "Evangelina," and my favorite, "Standing in my Shadow." The heavy bass emphasized at the beginning along with the chucking on the fiddle and mandolin pumped through the hall with lots of energy. Chicking, a form of guitar, mandolin, and at times fiddle playing, was pioneered by the "Father of Bluegrass," Bill Monroe. Chucking, like slap-strumming, includes palm muting and helps keep the timing along with the bass. By the time they got to the pre-chorus, the guitar and bass line had been established for the solo later in the song. The build up off of the solo was magnetic until they suddenly stopped to just palm muting on all instruments simultaneously. The final measures of this song showed how perfectly timed their harmonies were and how well this song was written. This song, besides the final ovation, got the loudest response from the ever-growing crowd. 
While this show was stellar on it's own, Paristown Hall added to the superiority of this performance over rival ones across the city. After opening on July 23rd, Paristown Hall was a 12 million dollar project that took over 5 years to both plan and build. Louisville has places like Headliners and Mercury Ballroom that can seat around 900 people, but at the same time, Louisville has Cardinal Stadium and The Yum! Center that can seat 65,000 and 22,000 respectively. However, Louisville does not have a venue for the up and coming bands or sub-headliners like Trampled by Turtles or even Louisville's own Jack Harlow. This project though, according to LEO Weekly, filled, "A missing piece in the venue landscape here," in Louisville. With the capacity to hold 2,000 people, Paristown Hall will surely sell out like it did for TBT, but it will not surrender the intimate connection fans can feel with an artist at a smaller venue, unlike a show with 20,000+ people.
After attending and reflecting on this concert, I came to a much different conclusion than what I would have imagined originally. I believed that I was going to see one of my favorite bands at a brand new venue. However, I was pleasantly surprised, as I now know that I saw one of my favorite bands perform along with a new addition to my top 20 list, all at my new favorite venue, Paristown Hall.