Mr. Yarborough: The Humble Tiger
A front-page story for a behind-the-scenes guy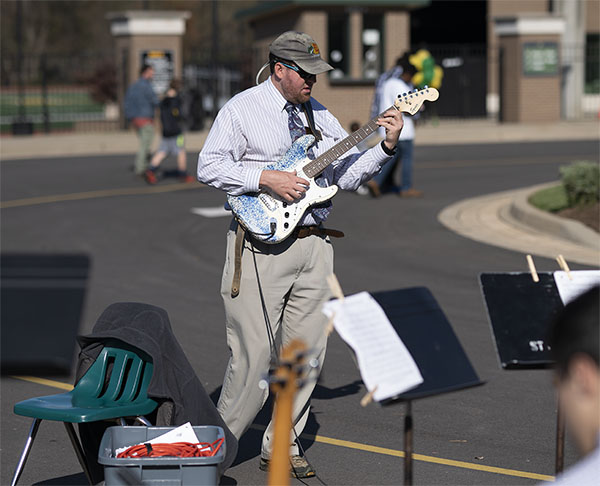 What do hockey players, bass fishermen, and music students at Saint Xavier have in common? Besides the fact that they run in the same halls, each of them functions under the tutelage of Mr. Matt Yarborough. 
Most know Yarborough for the fact that he teaches music, but this understanding only scratches the surface of what he does. You may not know him, but he does more than you would imagine. Currently, he teaches, directs music, and coaches. Although this would be enough for most, Yarborough seeks more. He leads the bass fishing and hockey teams and almost all of the school's extracurricular music activities. 
"I think with Mr. Yarborough, he has that passion, but I also think he has that passion in multiple lanes," Principal Espinosa said. "I mean, it's kinda like a super highway for him."
A super highway it is; however, Yarborough always manages to be present, despite his busy plate. With his schedule, it would be easy to divide his attention, but he stays focused. 
Personally, I see Mr. Yarborough as a sort of renaissance man. Watching him from the classroom, I understand the patience and work ethic he possesses. Even on days when students may be difficult to work with, he never resorts to anger, trading frustration for tranquility.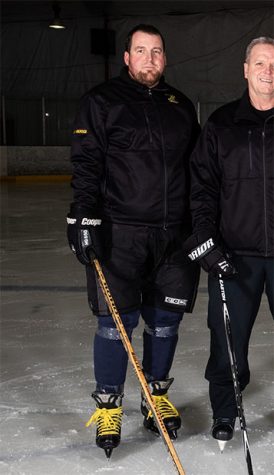 In the four years that I have been involved with his classes, I have never heard him complain about the work he does. As a freshman, he took me in without hesitation and helped me progress as a musician. Yarborough never gets tired or down and gives every student the attention he needs.
As a coach, he has been improving the hockey team. The season is young, but the team has already gotten three more wins than last year. 
With the bass fishing team, Yarborough brings students together twice a week. Every Wednesday morning, the team practices casting in the gym for 45 minutes. On the weekends, they translate these skills to the water.
"[He's a] super patient guy; he gets out on the water literally as much as possible. He's always sharing insights on what he does," Junior Tyler Rodighiero said.
Yarborough holds weekly rehearsals for the jazz band and schedules events for them to perform. He gets to manage talented students, but makes sure everyone has a chance to shine, regardless of skill level.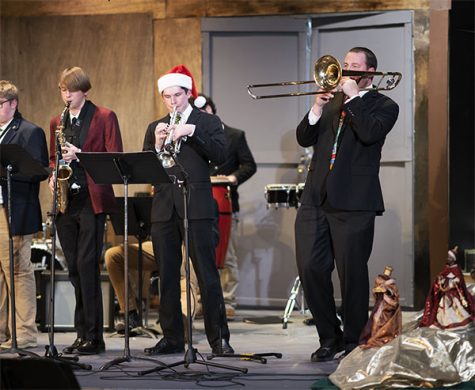 In addition, he leads the pep band for athletic events and the pit orchestra for St. X's musicals. The rehearsal schedules for these are rigorous—sometimes going late into the night. 
As an educator, he often allows classes to learn through material that interests them. In his instrumental music courses, students get the freedom to explore their passions. Yarborough finds time in his busy schedule to alter lessons to ensure student engagement. This type of teaching separates Yarborough from the rest. 
Yarborough's instrumental music classes teach students how to work together in ways no other classes here can offer. He guides the structure of the class and is available as a reference point, but he gives students the freedom to choose what songs they want to play and how they are arranged. 
Yarborough's instrumental music classes are organized for stop-start production. The learning occurs from tweaking small things to shape each individual's talents on their respective instrument.  
"[Mr. Yarborough] made me feel really comfortable while learning because it was almost like he was learning with me and he was just super welcoming, stopping class and letting you learn a certain concept, whether it was on your instrument, or the song all together, what key it was in, just stuff like that," Senior Caj Feldkamp said. 
He said the class motivated him to pursue music much more than he did in the past. This shows how Yarborough's teaching style carries over beyond the classroom. Students like Feldkamp can retain the skills they learn in his classes and use them for the rest of their lives. 
In his digital music classes, he teaches students how to create music on their iPads. He is constantly keeping up with the times and interesting students in contemporary and classical styles. 
If you haven't had a chance to have class with Mr. Yarborough or meet him, you wouldn't regret it. He lives a life of service to others by devoting his time to so many activities. 
"The first thing that really comes to mind is you can tell he's a guy who loves what he does. Always a smile on his face, happy to see you. He definitely likes to get to know his students," said Colton Happel, who has had Yarborough for four years. "Even though it is a music class, he doesn't lose sight of St. X's mission in terms of spirituality. We start class with prayer every day…Mr. Yarborough likes to include and mention everybody."
Yarborough personifies the fundamental Xavieran value of humility. Although he works incredibly hard, you'll never know it, because he does most of it behind the scenes.
"[Mr. Yarborough] is a Xaverian through and through," said Principal Espinosa. "Some of us have our own, 'this is it, this is the way to do it…' He's the kind of guy that sees it from a much bigger perspective but has the same moral obligation to make sure they [students] learn and develop in all of those different areas."
Between hockey, fishing, and music, Mr. Yarborough devotes his time to all of his passions. Yarborough stands out from the rest, coasting down his "super highway" on cruise control.