One St. X senior offensive lineman's weight loss journey has not only benefited his personal health, but also inspired his whole team.
Tommy Rosenbarger has played a key role in the Tiger's success over his three-year varsity career. Now a senior standout, he has battled weight loss for almost two years. Tommy has been an inspiration to the entire football program, as he has exemplified determination and a refusal to accept defeat that has earned the respect of his teammates. Tommy has lost a total of 75 pounds and describes this journey as a life-changing experience.
"It's definitely changed my life completely," Rosenbarger said. "I feel entirely different both physically and emotionally."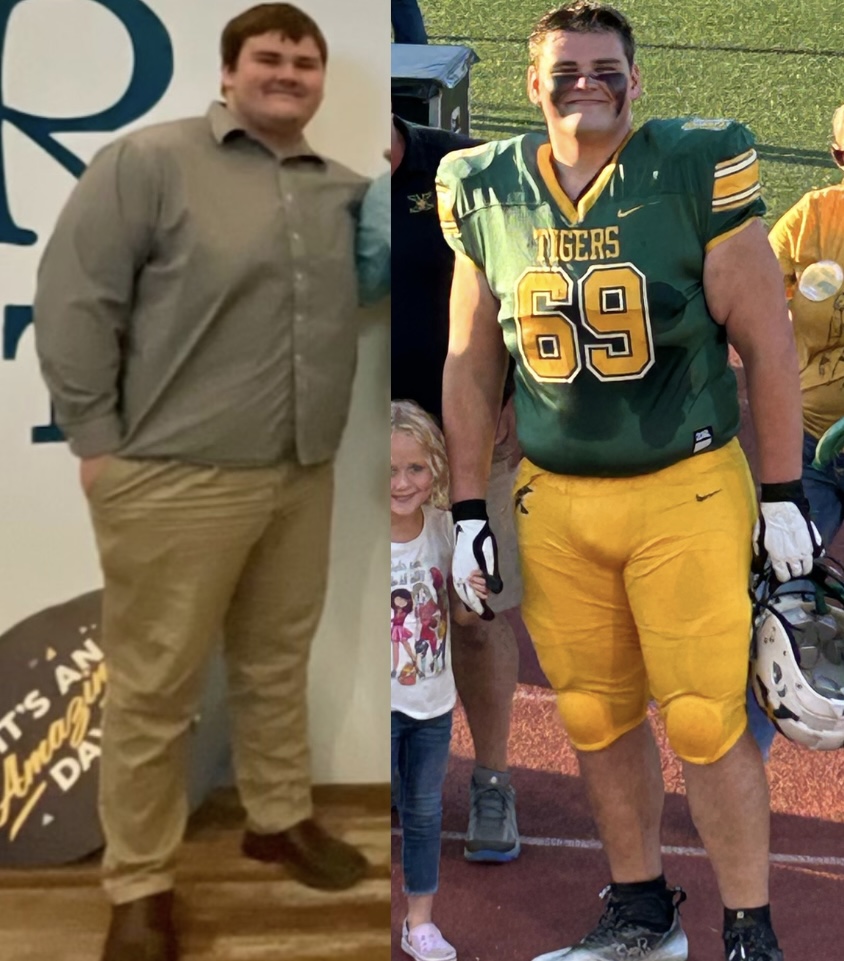 Two people in particular have helped him through this. Tommy's offensive line coach Mike Riddle and teammate Carter Guillaume have been extremely supportive all along the way.
"Coach Riddle and Carter Guillaume have been the two biggest influences throughout this process," Rosenbarger said. "I wouldn't have been able to make it this far without them."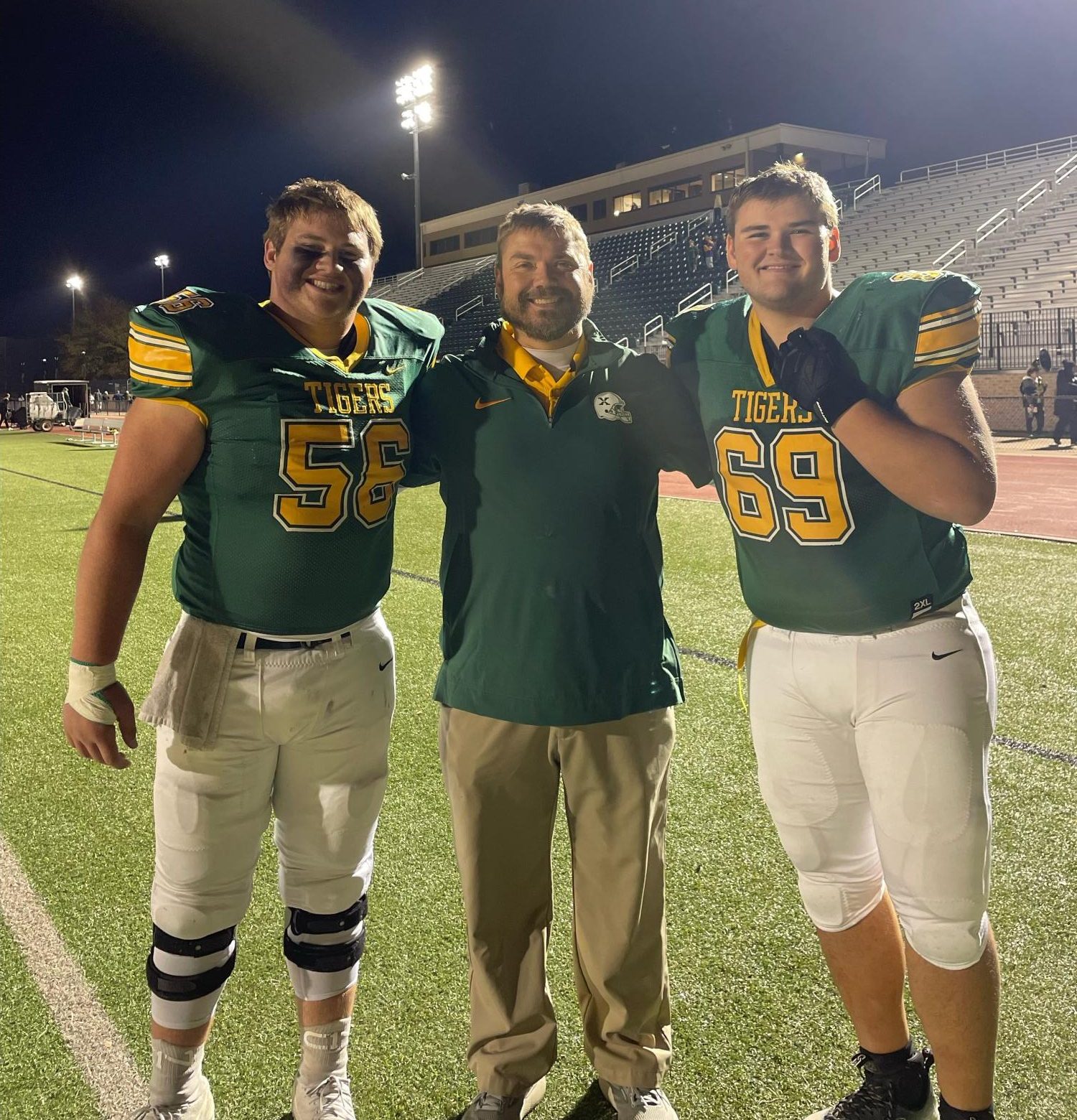 Carter's influence on Tommy's life has not gone unnoticed, as he has stayed right by his side through all of the tough and messy times and has made an unforgettable difference that completely embodies the concept of brotherhood. They spend a lot of time together on and off the gridiron and have grown in more ways than one.
"Tommy realized he needed change not only for him but for his team," Guillaume said. "Tommy is like a brother to me. Over the summer, we worked out and pushed each other. We also grew in our relationships with God as Coach Riddle and I got to baptize him."
As a mentor for Tommy during his weight loss journey, Coach Riddle had to adjust and adapt his relationship with Tommy to the point where he could tell him the hard truth that he needed to hear.
"It was all about accountability, discipline, and tough love on my end," Riddle said. "My primary concern and priority has always been his overall health versus just getting him in shape for the season."
Riddle is in charge of bringing the offensive line unit together both on and off the field, and Tommy has made an exceptional impact on the people around him.
"Our current offensive line group is probably the closest unit I've worked with in 23 years of coaching the position, and Tommy plays a major role with that," Riddle commented. "He has always been a person of high character and someone that the younger guys could look to and learn from."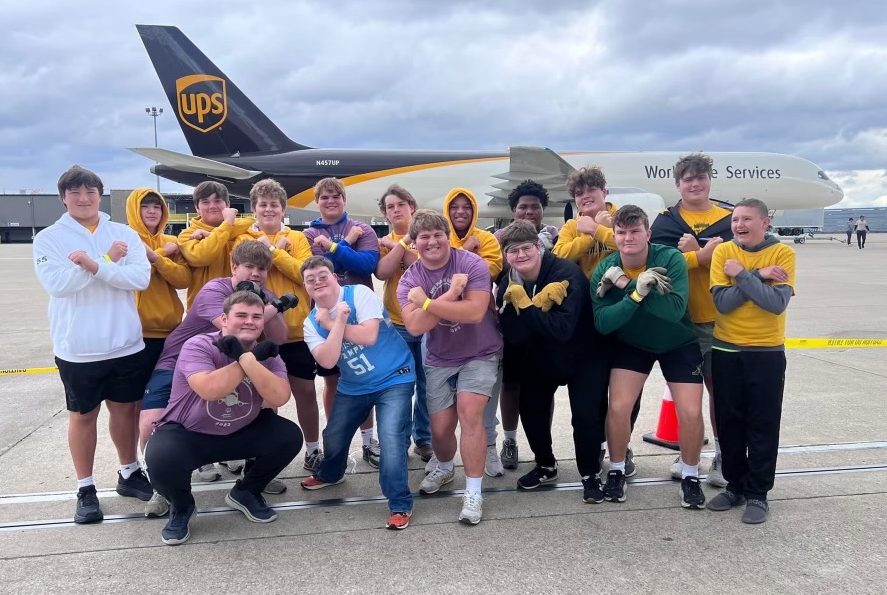 Coach Riddle appreciates his work ethic and determination immensely, and he is extremely proud of the impact he has made on the entire team.
"Tommy's resiliency in fighting back against difficult circumstances has set a tremendous example for those of us who endure times of adversity," Riddle said. "It has been a highlight for me to see his commitment to his health journey and his personal and spiritual growth. I will always appreciate his trust and willingness to sacrifice and put in the work."
Tommy believes that he still has a long way to go in this process, and he is unwavering in his determination to reach this point.
"I'm still not at my end goal," Rosenbarger said. "I'm only a part of the way to where I want to become as a person and football player."
Tommy's impact is felt all around Saint Xavier High School, and his innate ability to persevere will continue to inspire those around him wherever his journey in life takes him.