From Mister to Doctor: Daniel McCue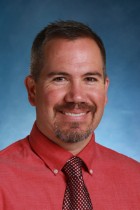 Dr. McCue, St. Xavier High School's Director of STEAM and its Engineering teacher, has recently earned his Doctorate in Education (EdD) in Educational Leadership from Spalding University.
This is McCue's first degree at the doctoral level; he obtained his Bachelor's of Science in Mechanical Engineering and a Master's in Education from the University of Notre Dame.
By earning his new doctorate, he believes he is challenged to "think more broadly about education, both in terms of my educational practices in the classroom, but also the field of education in general."
McCue has always wanted to earn a doctorate, but the man who spurred his pursuit of an EdD was the late Dr. Perry Sangali, St. Xavier's former school president. According to McCue, Dr. Sangali encouraged him to earn a higher degree, challenging him to "grow as an educational leader." His support made up a large portion of McCue's motivation.
As far as what his doctorate entails, McCue described his degree as a "practitioner's degree," noting that "a PhD is a bit more research-based" with the goal of working in a collegiate or research-type atmosphere. This differs from his EdD, which he stated is a degree for "working in the educational field."
He now feels more prepared to critique widespread educational trends and philosophies as well as his own teaching style. To that end, McCue believes his degree is "very, very useful."