In the world of professional soccer, talent can emerge from unexpected places, and players can rise to prominence through dedication, skill, and perseverance. One such player is 2013 St. X graduate and current Lexington SC defender Kaelon Fox.
His journey from a St. X student-athlete to a professional soccer player is a testament to his passion for the sport and his unwavering commitment to his dreams. Fox began his journey with soccer at four years old. As a youth player, Fox played club soccer at Javanon SC and later at Lexington FC.

"My brother had a huge impact on my love for soccer," Fox said. "He played and we always went out in the backyard and kicked the ball around. I would also go to his games on the weekends from time to time. Just being around the sport and being above average at a young age helped with falling in love with it."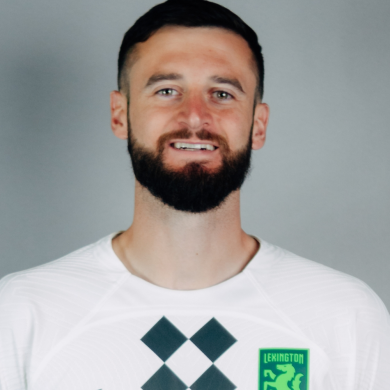 His St. X career, however, got off to a rocky start. After getting cut from the freshman team his freshman year and making JV his sophomore year, Fox was determined to make varsity as a junior.
"I didn't make varsity at St. X until my junior year, so my main focus in high school was to make varsity," Fox stated.
During his junior and senior year, Fox led the Tigers to one of the most successful campaigns in the history of St. X soccer. Not only did he have on-field success, but he made great memories and friendships along the way. 
"I have a plethora of positive moments and achievements while playing at St. X," Fox remarked. "I still talk to many guys that were in my graduating class. A few top memories would be winning Mr. Soccer, 1st team All State, HS All American, and becoming a State Champion my junior and senior year."
Fox also admits that none of this would have been possible without the support from his coaches.
"Andy Schulten, Ted Nichols, and Tom Simms were three coaches and teachers that had an impact on my high school experience," Fox noted. "All coaches who at one point took a chance on me and gave me the confidence to finish my career at St. X with many team and individual accolades."
After graduating St. X, Fox got an opportunity to play at the University of Kentucky.

"Kentucky came into the conversation a bit late as Johan wasn't announced as the head coach until my senior year," Fox said. "Some factors were drive time from my parents house, conference, division level, facilities, and education. Kentucky ticked all the right boxes and was the best fit for me. I am very happy with my decision to play at UK."
He played three seasons at the University of Kentucky between 2013 and 2016. With the Wildcats, Fox made 48 appearances and scored five goals. In 2013, Fox was named to the SEC First-Year Honor Roll. In 2017, he transferred to Saint Francis University, where he made 18 appearances and scored a single goal.
In February, 2019, it was announced that Fox had signed his first professional contract with 2nd-tier Icelandic side Völsungur ÍF.
"I remember where I was and what I was doing when the contract finally came to my email. It was a surreal moment that I had been working toward since I was four years old" Fox stated. "100 professional starts, 10,000 professional match minutes, and five years later, I am super thankful for Völsungur giving me my first pro contract."
In his only season with the club, he won the player of the season award. The next year, Fox moved to top division Icelandic side Thór during a season affected by the COVID-19 pandemic.

In 2021, Fox returned to the United States, joining USL League One side FC Tucson. He made 53 appearances and scored two goals. On January 9, 2023, Fox was announced as the first-ever signing for USL League One club Lexington SC.
"This was a top five moment I have had since being a pro. I have a lot of ties to Lexington and having it come full circle and being the first pro signed by Lexington Sporting Club was super awesome" Fox commented. "Having played youth soccer and college soccer in Lexington, being the first signed pro was a moment I will remember for a long time. I could thank hundreds of people that prepared, mentored, and pushed me to get to that point."
So far at Lexington SC, Fox has made a huge contribution to the team as a consistent starter. He has made 29 appearances and even ended up on SportsCenter Top 10 for an acrobatic goal-line clearance.

Now at age 28 and in the prime of his soccer career, Fox's achievements on-and-off the field are sure to expand.