The NFL season is right around the corner and all football fans are on the edge of their seats. Since the many off-season signings and rookies, there are many teams and players expected to exceed expectations. Many teachers and staff at St. X follow NFL teams, but some are more spirited than the the rest…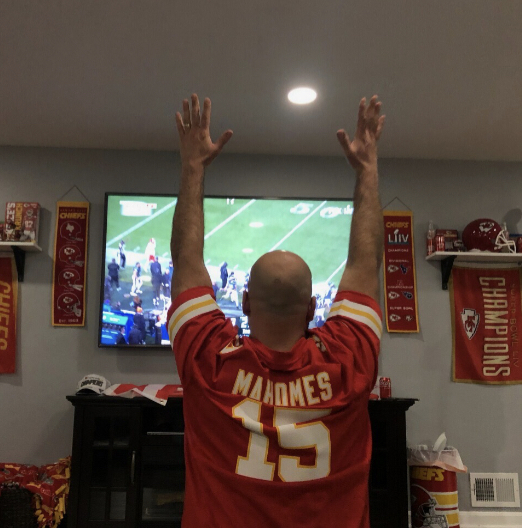 Mr. Estephan – Chiefs
When you became a fan:
I became a Kansas City Chiefs fan in 1993, when I was ten years old. I was a big 49ers fan because of Joe Montana, but when he signed with the Chiefs my loyalty followed.  I quickly became a fanatic.  Little did I know the years of agony I would endure for most of my young adult life, only to be redeemed by the greatest player of all time, Patrick Mahomes.
Your team's record:
14 – 3, we may lose one in our division, probably to the Chargers (not the Raiders or Broncos of course, those are practically bye weeks!).  Playing at the Jets will be tough, and the Eagles may get us in a rematch on MNF at home.
Season outlook:
This season is the "RUN IT BACK!" Tour, striving to defend what is ours and lift the Lombardi trophy for a 3rd time in five years.  Chiefs WILL repeat as champions because that is who WE are!
Breakout Player: 
#19 Kadarius Toney WR.  He had a huge game against the Eagles in the Super Bowl, and he will continue his dominance this year as he claims a spot in the top five WR in the league. Draft him in your fantasy leagues, kids!
Star Player: 
Patrick Lavon "SHOWTIME" Mahomes II – Need I say more? He's a baaaaad man!
What you think will go well: 
Our offense will come out firing on all cylinders against the Lions in the season opener.  Even though we lost a couple pieces on offense, the players that matter are still there (#87 and #15).  Our offense will continue to dominate, no surprises here.
A concern you have about the team:  
I am concerned about our front line with the Chris Jones contract situation.  As of right now, he is saying he may hold out until week eight.  I think he is a one of a kind talent, but he is also asking for a lot of money.  I think we need to pay him but Kansas City will only pay Mahomes and Kelce, everyone else is expendable.  I hope they sign him before the season starts.  He is vital on the front line and was a key piece in beating the Cincinnati Bengals last year in the playoffs.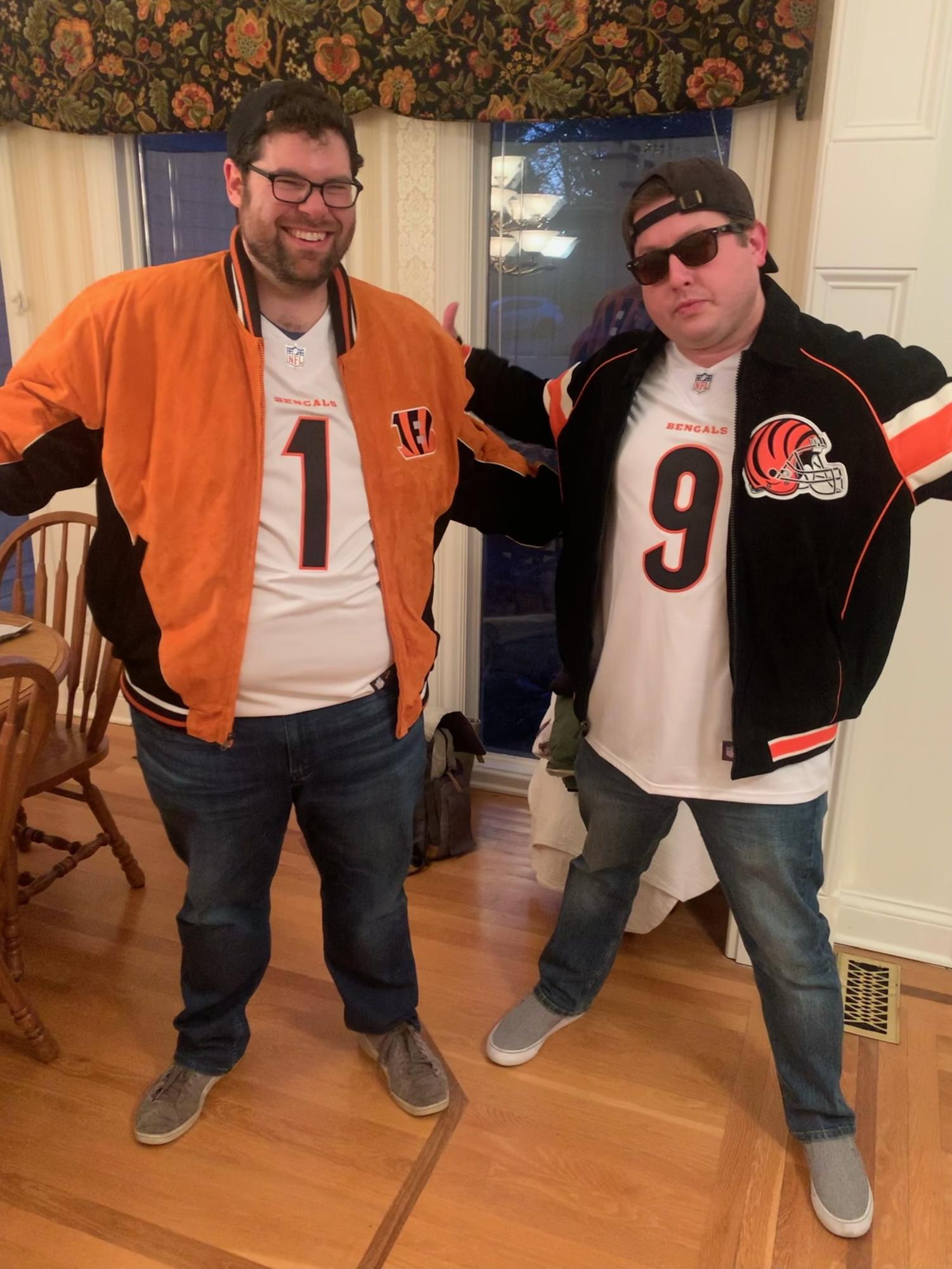 Mr. Wolz – Bengals
I became a fan when I was in grade school. I had an extreme dislike for Peyton Manning and Cincinnati was both terrible and the local team. There were many, many years of pain misery. I still remember the feeling of joy watching Carson Palmer open the 2005 playoff game against the Steelers with a long completion to Chris Henry only for that joy to turn to ashes in my mouth as Kimo Von Oelhofen rolled over Palmers's leg (late might I add) and tear his ACL. The true low of Bengals fandom occurred in December of 2015 and what followed after Andy Dalton broke his thumb making a meaningless tackle after throwing an interception meaning the backup, AJ McCarron, would quarterback the best Bengals in years in the playoffs.  That Bengals team had the Steelers beat in January of 2016…until Jeremy Hill fumbled (he never fumbled) and Vontez Burfict and Pacman Jones lost their composure and ultimately the game. This is the atmosphere in which my fandom is forged, and this new feeling of optimism is new…and nice….but new.
Prediction:
I believe the Bengals will go 13-4 this season
Season outlook:
I believe the Bengals are firmly in their window of competing for a Super Bowl. They've gotten close the last two years and that was with offensive lines nowhere close to the projected line of this year. The stars are aligning for a deep run.
Breakout star:
I'm looking for Irv Smith Jr (the new tight end) to have a big year. They started featuring Hayden Hurst more as the season moved along, and I think that will continue with Smith. On defense, Cam Taylor-Britt is going to show why he was an absolute steal as a second-round pick.
What will go well:  
The front office went and addressed the biggest weakness of the team with the signing of Orlando Brown Jr. at left tackle. They also locked up Logan Wilson and Germaine Pratt solidifying the linebacker core for years to come. The biggest addition to this team is probably the return of reigning NFL Chess Champion Chidobe Awuzie who moonlights as a lockdown corner when not at the chessboard. This is a very solid team top to bottom.
Star Player:
I think it would be cliche to say Joe Burrow, but I think it will be Joe Burrow. When you have the receivers to throw to that he has, (Chase, Higgins, Boyd) he's going to put up some numbers.
A Concern:
The only concern I have for this team is if they can keep Joe Burrow healthy. His paper-thin offensive line of the past few seasons means he has taken more hits than most QBs. His heath is vital for this team. He can be Sheisty when he needs to be, but he may need to slide (on his non-surgically repaired knee) a little more often.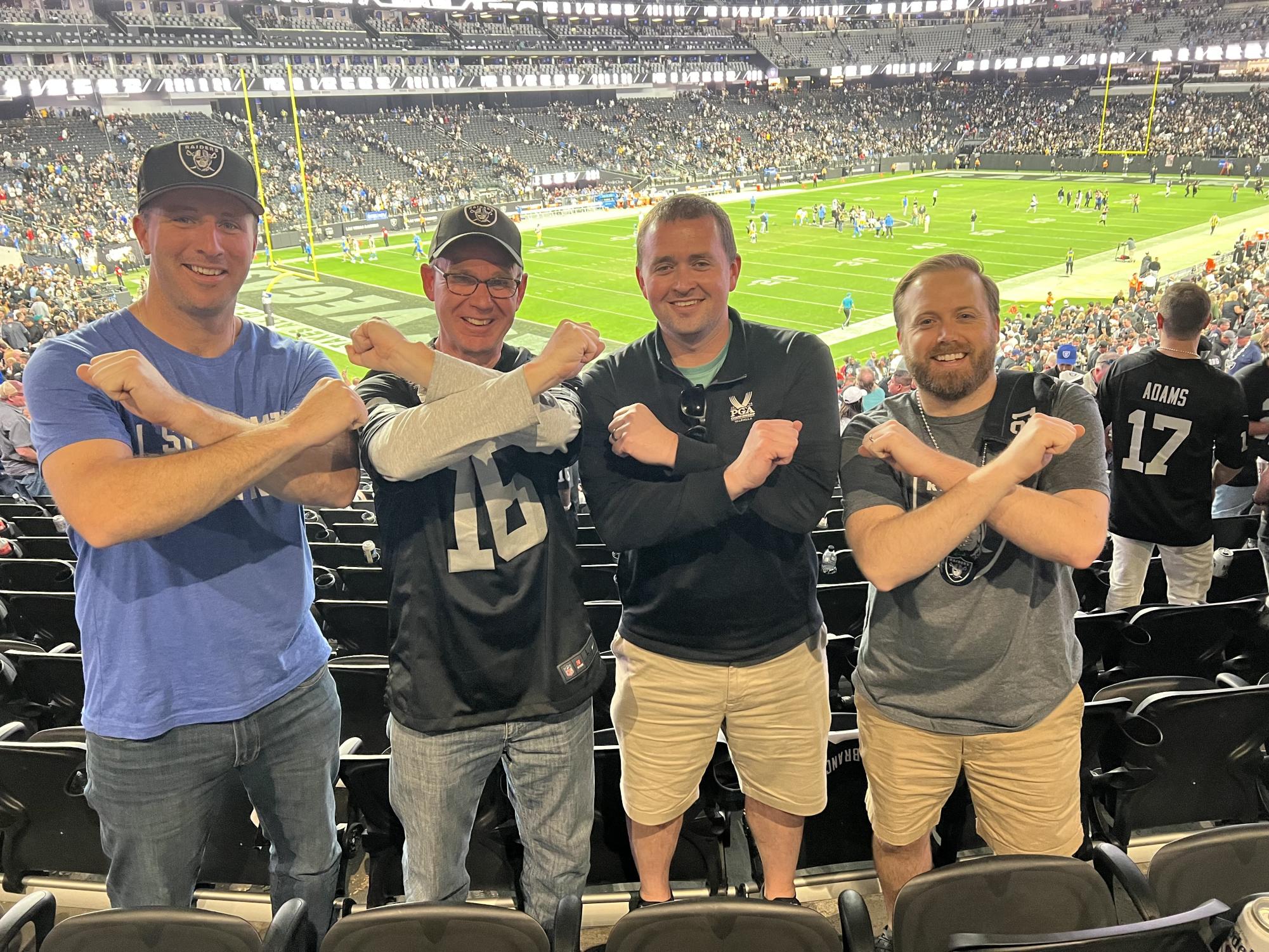 Coach Jefferson and Mr.Brockman – Raiders
When you became a fan:
Mr. Brockman: My older brothers played little league football. Their team was the Raiders, who were on the heels of a third Super Bowl win.
Coach J: Became a fan at age five.  First game I remember is the 1974 AFC Divisional game vs the Dolphins.  We won 28-26 in what I still consider the greatest game ever played!!!
Your team's record: 
Mr. Brockman: I'd rather focus on the future, thank you.
Coach J: 6-11 (depending on Garoppolo's health).
Season outlook: 
Mr. Brockman: Total domination. Josh Jacobs, Jimmy G, Hunter Renfro, Devante Adams, Michael Mayer, Maxx Crosby, Chandler Jones = at least 15 wins.
Coach J: Until Josh Jacobs signs, the season looks pretty bleak!  Jimmy Garoppolo is our new QB and while he is a proven winner, he has a history of getting hurt.  If he does get hurt we won't win more than six games.  If he can stay healthy and the defense improves we have a shot at the playoffs though we play a brutal schedule this year.
Breakout Player:
Mr. Brockman: Michael Mayer
Coach J: Keep an eye on a rookie named Tre Tucker out of University of Cincinnati.   Outstanding speed!
Star Player:
Mr. Brockman: Josh Jacobs
Coach J: Maxx Crosby is our best player.  Led team in sacks last year and is a force to be reckoned with.  Davante Adams on offense is also a stud!
What you think will go well:
Mr. Brockman: Offense will put up a TON of points.
Coach J: Our defense will improve but that's not saying much based on last year.
A concern you have about the team:
Mr. Brockman: What will happen when Vegas celebrates a Super Bowl victory.
Coach J:  I'm not sold on Josh McDaniels as a head coach.  Seems a little hard headed.  Makes a great offensive coordinator but not sure the team respects him.  If he comes around as a head coach, that will make a difference, but I don't think he will.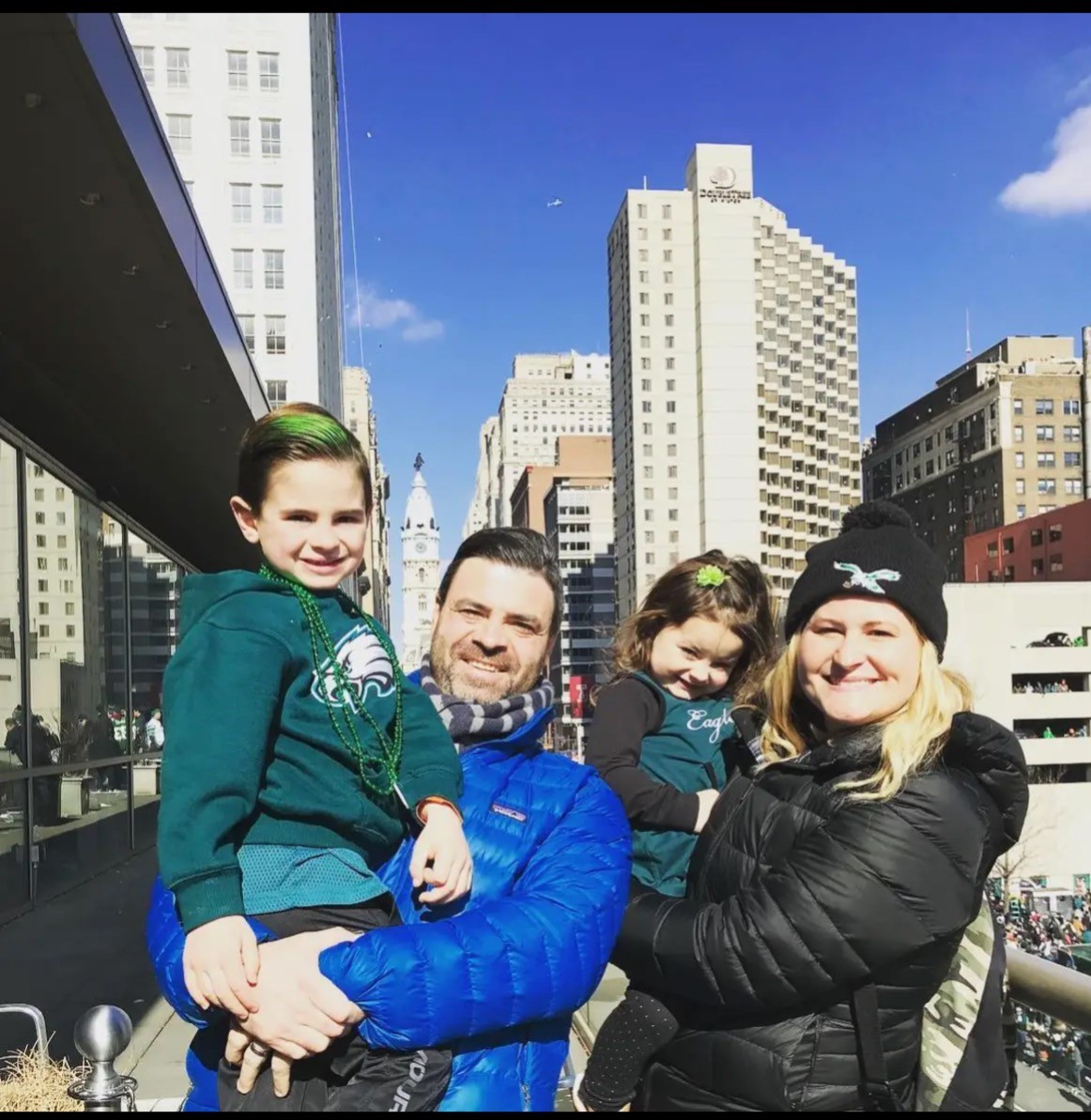 President Colistra- Eagles
When you became a fan:
If you grew up in the Philadelphia area, it's really instilled in you at birth. No other choices, really. There are no 49ers, Chiefs, or certainly not Cowboys fans in Philly. But, my first memory of watching a game was with my dad and uncles in the infamous "Fog Bowl" in 1988 when I was eight years old. A heavy fog engulfed Chicago's Soldier Field in the 1988 NFC Divisional playoff game. Check out the surreal photos from that iconic game.
Your team's record: 
Very hard schedule. I'll say 11-6. Could be 10-7.
Season outlook:
They will sneak into the playoffs – but will get in nonetheless. From there, if healthy, they will be a problem.
Breakout Player:
LB Nakobe Dean. With a team full of dawgs, he's going to rise to the top.
Star Player:
Devonta Smith. Small, but mighty. Have to get him the ball early and often. Has to keep big hits off himself.
What you think will go well:
Making the playoffs
A concern you have about the team:
Not making the playoffs. That's a real concern with this schedule and league. And, if Hurts goes down, the QB situation is a problem.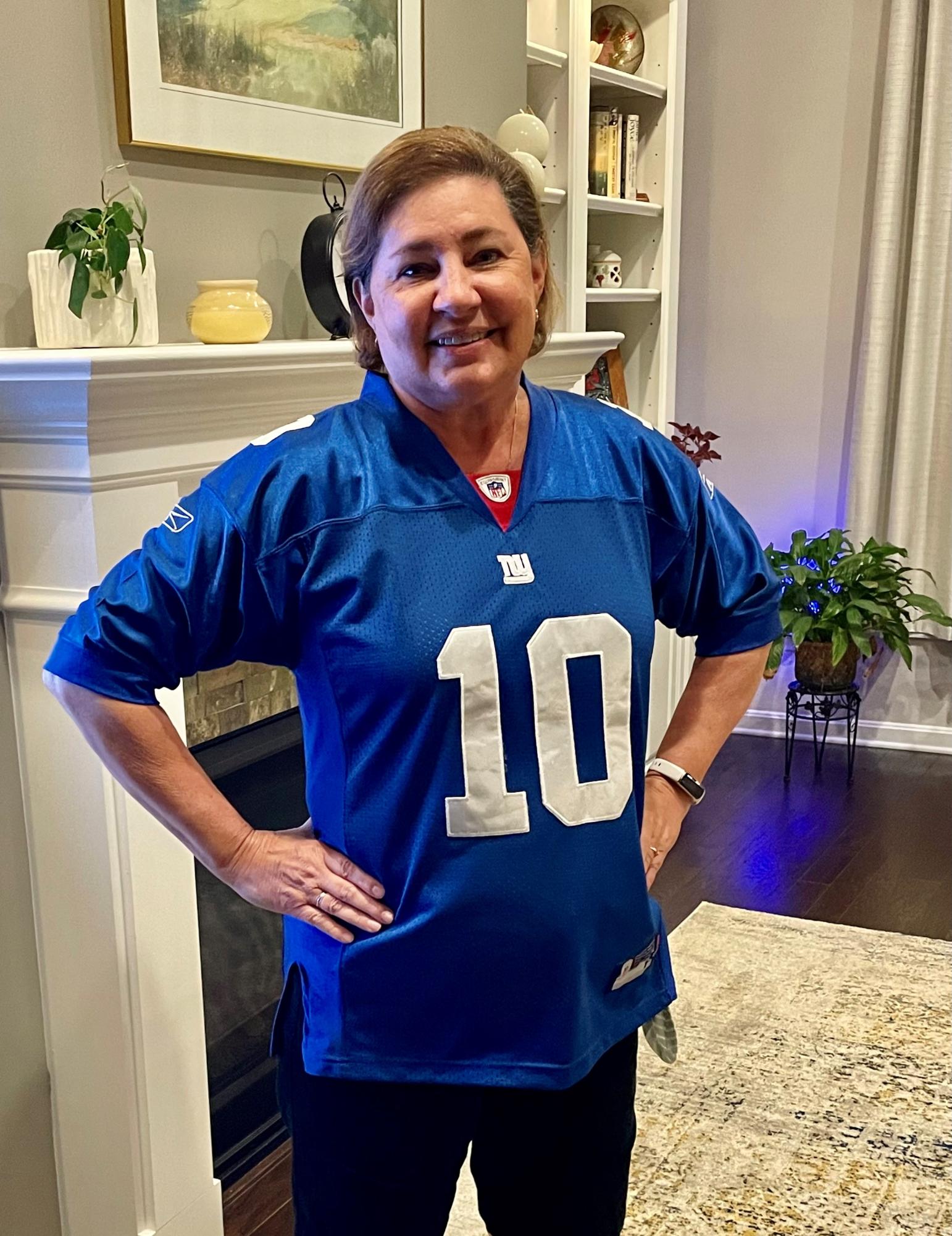 Coach Frank and Mrs. Reynolds – Giants
When you became a fan:  
Coach Frank: As a kid – growing up in New York State you had a few choices (Giants, Bills, Jets).  I was partial to the Giants uniforms, and Lawrence Taylor was a superstar.
Mrs. Reynolds: Growing up in New Jersey, I became a fan pretty early on in my young adult life.
Your team's record:
Both: 9-8
Season outlook:
Coach Frank: I am keeping expectations tempered this year.  I am not sure we can replicate our playoff season from last year.  The NFC will be pretty competitive.
Mrs. Reynolds: I think they have a great outlook this year.  With returning players who are healthy, a coaching staff that is executing better than in the past, and Coach Daboll's second year will bring better results for the team.  They brought in good players from the draft that can fill areas that were somewhat weak.  Daniel Jones has been showing better focus and connecting with some good players pre-season.  I think he ended the season last year with a lot of positive momentum.
Breakout Player:
Coach Frank: Daniel Jones (fingers crossed!!!)
Mrs. Reynolds: Darren Waller – he has shown great promise during the preseason and good focus as a player.
Star Player:
Coach Frank: Saquon Barkley (also fingers crossed!!!)
Mrs. Reynolds: Saquon Barkley – as long as he stays healthy.  Also Kayvon Thibodeau – he's projected to be a top pass rusher this season.
What you think will go well:
Coach Frank: Defensive line is actually sneaky very good
Mrs. Reynolds: I hope they get a good start and build momentum in early games.
A concern you have about the team:
Coach Frank: The wide receivers really need to improve this year if the offense is going to be better.
Mrs. Reynolds: They are playing in a very tough division.  Last year they could have been in better shape in the playoffs, but other teams were just so good.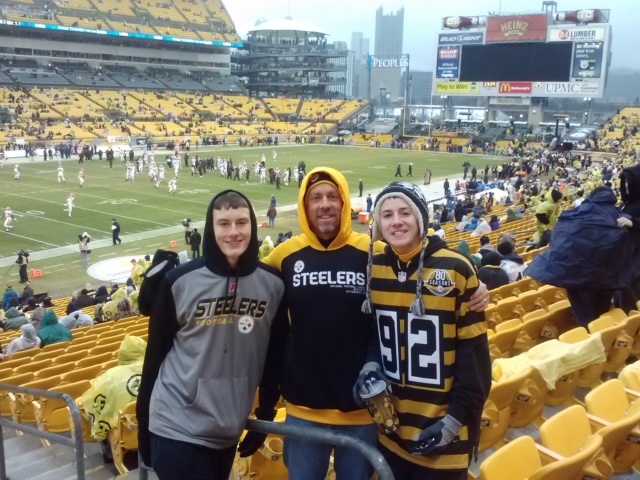 Coach Porta – Steelers
When you became a fan:
I've been a Steelers fan since the 70s.
Prediction for 23-24 season:
12-5 regular season and then win 7th Super Bowl
Players to watch on Offense:
Najee Harris RB and Pat Freiermuth TE
Player to watch on Defense:
A healthy TJ Watt should dominate again
Coach Larkin – Dolphins
 "A Tale of Two Tuas" 
The entire Dolphins season rests on the health of their quarterback Tua Tagovailoa. If he is able to complete the season, look out, they have the talent to go all the way and will continue to add the necessary pieces from a general manager who is always willing to spend. If Tua misses any games, Mike White is an unproven backup quarterback which spells trouble for the team from South Beach. Below is the way I see it:
If Tua remains healthy, Dolphins will go 14-3 and make it all the way to the AFC Championship Game. If Tua is hurt, the season will take a drastic turn and the Dolphins go 7-10.
My 2024 Super Bowl Champion – Cincinnati Bengals! Just have a feeling it's their year and we are going to hear "Who Dey" chants in February!