Thanksgiving Play-By-Play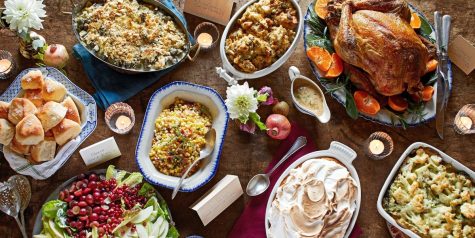 As I walk into my family's living room, I am surrounded by a massive twenty-two foot table covered with an assortment of Thanksgiving dishes. At the head of the table lies the two turkeys, one that has been marinated and smoked for two full days and the turkey that has been marinated and placed into our family's slow roasting oven. As a majority of my family prefers the smoked turkey, the oven baked turkey doesn't get as many hands on it when my family's single file line goes through to begin the feast.
As I wait with my empty plate ready to be filled with delicious food, I come up with my game plan. First up on my plate is the smoked and juicy turkey as well as a good amount of tender honey ham. From there, I go to the mac and cheese, which is a must, especially if your family can make it from scratch. Going through the line, my next stop is the mashed potatoes. A warm, slightly salted and whipped pile of mashed potatoes always wins over my heart. In my family, my mother is in charge of the mashed potatoes in which she has been dedicated to ever since our family gathered at my grandfather's house decades ago. According to her, the key to perfect mashed potatoes is enough milk and a slight pinch of salt added in for flavor. 
Certain sides during Thanksgiving are not as appealing as others; however, they are still good. I call these, "filler sides." These sides usually end up just sitting on your plate. Every year, I am guilty of taking a spoonful of Grandpa's dish because it tastes "really good." As for the filler sides that end up on my plate for no reason, corn and green beans earn that distinction. 
Furthermore, stuffing is a total waste of time. I only have so much room on my plate — I don't waste it on stuffing. The last step of this delicious process involves grabbing a couple of buttered rolls and a glass of ice cold milk. Hopefully, by some miracle, after I finish there will be enough room in my stomach for a healthy slice of pecan pie.