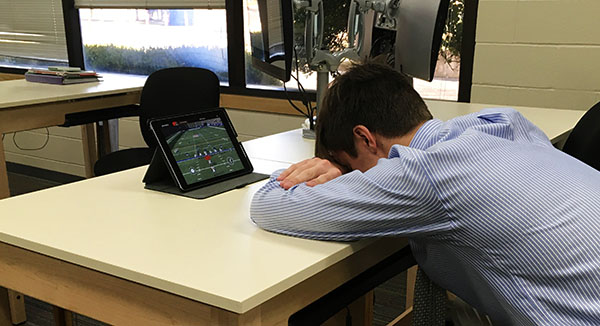 As Winter comes into full swing, immune systems all over the country find themselves depleted and susceptible to various ailments brought in by the first snow. Hunkering down to brave the so-called "flu season," students at Saint Xavier are steeling themselves with vaccines and nasal sprays, oblivious to the real threat. But as December arrives, St. X's 12th grade population finds themselves infected by a malignant new epidemic: senioritis. Leading researchers are mounting an effort to compile a list of symptoms and cures for this surprise pandemic; here are their findings.
Symptoms
Senioritis is a disease with many symptoms, but there is a set of common ailments indicating its presence, the most common being a profound sense of lethargy. When faced with the prospect of homework, those suffering from this malady tend to ignore it. Lethargy permeates senioritis patients, making them incapable of completing the simplest math problem until the very day it is due. The illness saps away its victims' motivation, forcing them to neglect their responsibilities and deplete their dedication to their schools, jobs, and sports. Senioritis' greatest weapon, however, is its insidious whisper, manipulating students into believing that senior year is a meaningless finish to their high school career. The disease ensnares the teenage mind, lulling it into a sense of lethargy as grades plummet in tandem with motivation. The symptoms of senioritis indicate the deadly nature of the sickness, but there are possible cures to place in effect before the disease becomes incurable.
Cures
Though senioritis is a quickly effective, deadly disease, there are steps one can take to eliminate the ailment. The first step to take is to diagnose the sickness. Senioritis is limited to seniors, so freshmen, sophomores, and juniors are out of luck. Their illness is a mere case of laziness and their simple cure is to develop a work ethic. Senioritis is a far more serious problem, but experts in the field of medicine have developed a process to cure the disease. The first step is to analyze the amount of work you have in front of you and craft a detailed plan to complete it. Start with the hardest subjects of homework and then move on to increasingly easier assignments. If you have a project due in multiple days, divide the work between them to avoid late night-before scrambling. Consistently following your plan will make what currently seems impossible routine, and you will soon recapture the drive you have lost. Though senioritis is fast acting and hard to cure, making a plan to eliminate it will hasten the healing process.
Senioritis is an easily contractible illness that is hard to cure. In fact, my contraction of the disease has considerably slowed the writing of this very article. But with midterms right around the corner, it is imperative to eliminate it before it gets worse. The good news is, with the cure provided above, St. X seniors can stop senioritis in its tracks before it is too late.