Remembering the Titans: Playoff Underdogs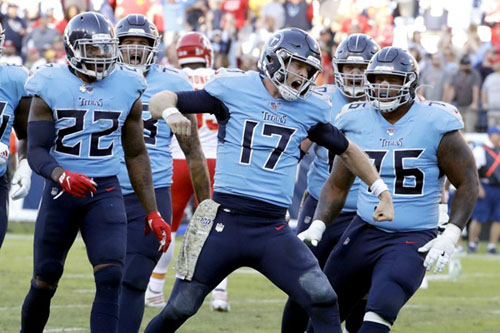 A seemingly forgettable Tennessee Titans team is doing unforgettable things in the playoffs. 
Whether it be the rushing attack from Derrick Henry, the play from Quarterback Ryan Tannehill, or the schemes behind second-year head coach Mike Vrabel, the Titans are making serious noise and they are doing it in underdog fashion. 
Their first challenge arose at Gillette Stadium against the New England Patriots, the reigning Super Bowl champions. To nobody's surprise, the Titans were favored to lose by 4.5 points.
The Titans built a first half lead, and ultimately never lost it. Coach Vrabel, a former Patriot player and coach, used Bill Belichick's own strategy against him taking two delay of game penalties to drain the clock late in the game. 
Tom Brady was held to just 209 yards and an interception in a tremendous showing by the Tennessee defense. The Titans relied on their ground game behind regular season rushing leader Derrick Henry to bring home a first-round victory in New England. 
Their next stop was in Baltimore where they faced potential league MVP, Lamar Jackson, in the AFC divisional game. 
The Titans went into halftime with a one touchdown lead. They came out firing with two touchdowns in the third, going up 28-6. The rest of the game was smooth sailing as the Titans pulled off the upset, handing the Ravens just their third loss of the season. 
The Titans have potentially their toughest task ahead against a high-powered Kansas City Chief offense. The Chiefs (12-4) are led by the elusive quarterback, Patrick Mahomes, and speedy receivers such as Tyreek Hill and Mecole Hardman. The Titans defense has the main challenge, but the Titans offense is hoping to give the Chiefs problems of their own.
They might not be "America's Team"; They might not have "Fitzmagic"; however, they believe they will be a team to be remembered.